Wrinkle and Facial Scar Resurfacing – DermaSurfacing™
DermaSurfacing™ by Dr. David Melamed is an exclusive treatment to turn back time on wrinkles and scars. DermaSurfacing can restore your own velvety smooth and more beautiful complexion.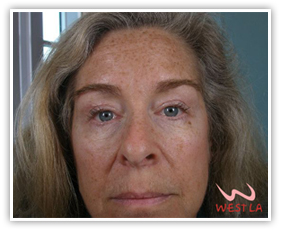 Before DermaSurfacing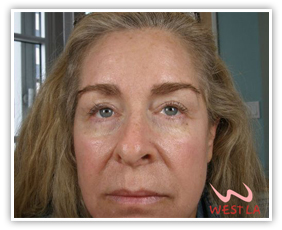 After DermaSurfacing
How is Skin Damaged?
Damaged skin from acne causes scar tissue that is hard and compressed. While wrinkles are caused by age, sun exposure, illness and lifestyle. Although the damage occurs over time, at some point, this should be corrected. DermaSurfacing can help revitalize your skin, returning the precious gift of youthful & healthy skin.
What is DermaSurfacing?
For facial skin resurfacing, Dr. Melamed uses a high-energy beam of laser light to vaporize deep wrinkles and scars, as well as dark spots, skin growths, blemished and other skin irregularities – layer by layer until the imperfections vanish. DermaSurfacing reduces and sometimes removes the wrinkles without surgery or stitches.
All wrinkles and scars are reduced by DermaSurfacing, but those caused by the sun respond best, especially those around the eyes and lips.

Before: see wrinkles around the mount

After: see wrinkles around the mount
Is DermaSurfacing Safe?
Yes. Laser DermaSurfacing is a safe way to customize treatment according to your individual concerns and unique skin type.
How is DermaSurfacing different from other resurfacing procedures?
Resurfacing with chemical or acids literally peels away layers of your skin. Depending on your skin type, these acids may not be appropriate. The depth of penetration and response will also vary based on your specific needs.
Benefits of DermaSurfacing
Excellent and rapid treatment
Dramatic antiaging results
Eliminates many deep lines and scars
Controlled resurfacing
Restores skin tone and elasticity
Customized to your skin type
More predictable outcome
Fast recovery with most treatments
Long lasting improvement
Performed exclusively by Dr. Melamed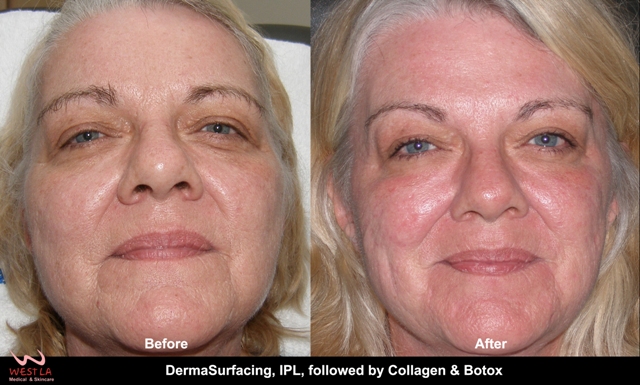 How does DermaSurfacing feel?
As the laser light gently passes over your skin, a carefully controlled exfoliation occurs. The outer layer of your damaged skin is vaporized, transforming your skin to a more youthful appearance. You will feel a tingling from the laser beam. You will be comfortable with a topical anesthesia and cool air passing over your skin.
What about recovery?
In most cases, recovery is rapid and gentle. For the first few hours you may feel a mild tingling sensation. You will also develop some redness and clear drainage for a few days. As necessary, Dr. Melamed will prescribe special creams and ointments to keep your skin moist and protected as you heal.
The redness of your new skin will fade within a few weeks and be camouflaged with makeup after two weeks or recovery.
Most of our patients recover within 2-4 weeks depending on the treatment performed and the depth of skin removal. Most patients will also have a 4 day down-time, and they prefer to stay home while recovering.
If you have any questions about acne, Botox, Restylane, Radiesse/Radiance, Chemical Peels, Laser hair removal or any other procedure or would like to make a Complimentary Consultation please schedule and
 Online Appointment or call toll free 1-88-88-West LA (310-473-1734).