QRejuvenation™ is a revolutionary laser skin solution exclusively developed by Dr. David Melamed to treat Melasma in 6-8 treatments (once every 2 weeks). Treatments are also effective for:
Pigmentation not related to melasma: 6 treatments every 2 weeks
Cystic & Inflammatory Acne: 5 treatments every week
The best part – you do not need to take time away from work or school. Lasers have become very advanced and in the hands of a professional like Dr. Melamed they can do wonders. The results of QRejuvenation have been confirmed in more than 90 percent of the patients treated.
The QRejuvenation™ procedures are easy to schedule and require 30-40 minutes of your time. During each treatment you will feel a warm-tingling sensation on your skin. No numbing medication is necessary. At the conclusion of the treatment, sunscreen and moisturizer is applied. There is no downtime and no specific after care is required (below is an actual patient immediately after the first treatment).
Results are apparent after the first treatment, and continue to build over each treatment session. Immediately after the treatment your skin will have a natural glow, feel smoother and tighter, and pigmentation will start to diminish.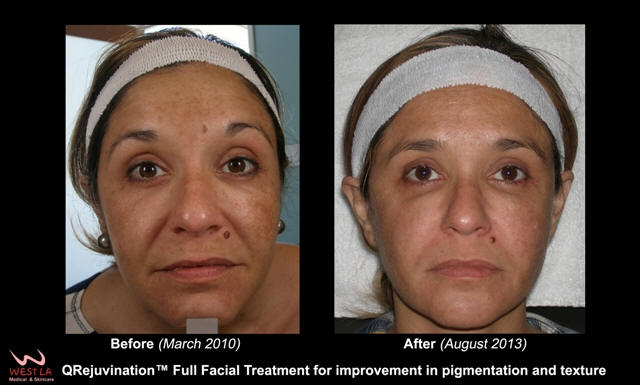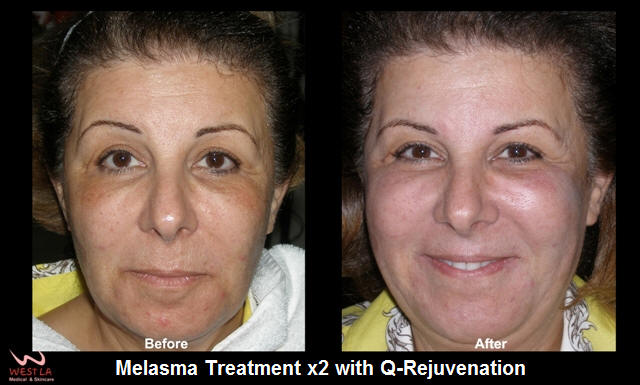 Individual results may vary.
Laser Skin Rejuvenation

If you have any questions about QRejuvenation or any other procedure or would like to make a Complimentary Consultation please schedule and  Online Appointment or call toll free 1-88-88-West LA (310-473-1734).